"Insight into a wonderful corner of the land."

Countryfile
My book Life of a Chalkstream is now out in paperback.
Available in bookshops, Amazon and Kindle. To order a signed copy click
here.
FEATURED FOR OCTOBER

TROUT BEATS OPEN THIS MONTH
Not everyone heads out shooting this month; the trout season still has some life in it yet!
River Avon
Avon Springs
Upavon
River Frome
Ilsington
Wrackleford
River Test
Broadlands
Bullington Manor
Dunbridge
Kimbridge Estate
School Farm
Mottisfont Abbey
Wherwell Priory
River Wylye
Fisherton de la Mere
CHRISTMAS GIFT VOUCHERS
Christmas wouldn't be Christmas without a gift voucher in every stocking. Easy to order, beautifully packaged and with my unique 2 year validity they are truly hard to beat. Visit my dedicated
gift voucher section
.
LOOKING AHEAD TO 2016
As I write we are currently in negotiation with our river owners to finalise diaries and prices, so currently you are unable to book on-line for 2016. However, if you have a particular request please
contact us
.
LIFE OF A CHALKSTREAM
Keep in touch with my news from the river via Facebook, Twitter and my bi-weekly blog. Sign up
here
.
The Mill
Heathman Street
Nether Wallop
STOCKBRIDGE
Hampshire SO20 8EW
T: 01264 781988
F: 01264 782590
info@fishingbreaks.co.uk
www.fishingbreaks.co.uk

THE ULTIMATE CHALKSTREAM FLY COLLECTION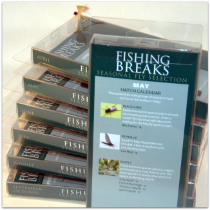 I have taken my cue for this collection from the angling greats like Halford, Skues, Sawyer and Kite who knew that the secret to successful chalkstream fishing was picking the right fly for the right moment.
As a fishing guide you get to know the cadence of the year and how the different flies appear at different times. But for an occasional angler keeping up with the changes is not always easy. The flies, photos and explanations with each pack will make it much easier to do what the greats did so well, match the hatch, which ultimately leads to more trout in the net.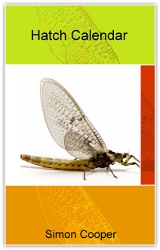 Order all six packs I will send you a free copy of my Hatch Calendar. Running to eighteen pages it is packed with photographs, illustrations and advice to cover the entire chalkstream season. See how, where and when to the use the flies in each pack.
The Ultimate Chalkstream Fly Collection (six packs)
£67.50 Add to cart
April




£11.50

May




£12.50

June




£12.50

July




£11.50

August




£11.50

September




£11.50
Order today and your flies will be with you in 5 days. Orders are dispatched by first class mail direct by our fly suppliers, Fulling Mill Flies in Surrey.
Fishing Breaks Ltd, The Mill, Heathman Street, Nether Wallop
Stockbridge, Hampshire SO20 8EW
Tel: 01264 781988. Fax: 01264 782590. E-mail: info@fishingbreaks.co.uk