The Mill
Heathman Street
Nether Wallop
STOCKBRIDGE
Hampshire SO20 8EW
T: 01264 781988
F: 01264 782590
info@fishingbreaks.co.uk
www.fishingbreaks.co.uk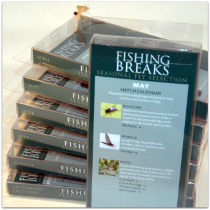 THE ULTIMATE CHALKSTREAM FLY COLLECTION
I have taken my cue for this collection from the angling greats like Halford, Skues, Sawyer and Kite who knew that the secret to successful chalkstream fishing was picking the right fly for the right moment.
As a fishing guide you get to know the cadence of the year and how the different flies appear at different times. But for an occasional angler keeping up with the changes is not always easy. The flies, photos and explanations with each pack will make it much easier to do what the greats did so well, match the hatch, which ultimately leads to more trout in the net.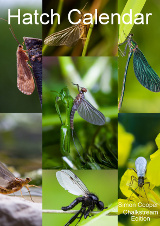 Order all six packs I will send you a free copy of my Hatch Calendar. Running to eighteen pages it is packed with photographs, illustrations and advice to cover the entire chalkstream season. See how, where and when to the use the flies in each pack.
The Ultimate Chalkstream Fly Collection (six packs)
£63.50 Add to cart
April




£9.95

May




£11.95

June




£10.95

July




£10.95

August




£10.95

September




£9.95
Order today and your flies will be with you in 5 days. Orders are dispatched by first class mail direct by our fly suppliers, Fulling Mill Flies in Surrey.
Fishing Breaks Ltd, The Mill, Heathman Street, Nether Wallop
Stockbridge, Hampshire SO20 8EW
Tel: 01264 781988. Fax: 01264 782590. E-mail: info@fishingbreaks.co.uk